This article is about the flight which crashed. For the airline company, see Wayfarer.
Wayfarer 515 was a 737 commercial airliner that collided with a chartered plane in the sky right above Walter White's house in Albuquerque, New Mexico ("ABQ"). All 167 people aboard both planes were killed, however the debris from the wreckage managed to avoid claiming any other victims on the ground and neither plane was full (515 was about two-thirds or three-quarters full). ("No Más")
Overview
Cause of crash
The incident was due to air-traffic controller error, the man responsible being Donald Margolis. Donald, still grief-stricken over the recent death of his daughter, Jane Margolis, failed to direct the charter plane JM21 out of the path of Wayfarer 515 ("ABQ").
Aftermath and response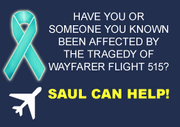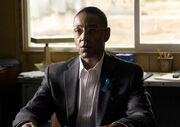 For a period after the incident, many people wore light blue and orange ribbons in memory of tragedy.
Saul Goodman
wore his ribbon for a much longer time than others because he was attempting to drum up business in the form of lawsuits against the airline. "The tragedy is profound. The pain is profound. And believe me, the settlement will be profound."
[1]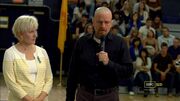 J. P. Wynne High School held an assembly led by Principal Carmen Molina to discuss the incident. After one of the students related how his neighbor found human legs in his front yard, Walt became defensive and urged everyone to look on the bright side of the disaster, saying that at least it was no Tenerife. ("No Más")
Walt was third–handedly responsible for this incident because of his second–hand causation of the death of Jane. This ultimately culminated the results of Donald Margolis feeling grief-stricken and accidentally giving wrong instructions for the incident to occur.
Themes
In the episodes "Seven Thirty-Seven", "Down", "Over" and "ABQ", it depicted of a pink teddy bear in Walt's swimming pool. The teasers of the episode would show evidence being collected from the debris of Wayfarer 515. Though it was unknown to the audience at the time of teasers, it was revealed in ABQ that the teasers were the aftermath of the incident.
Trivia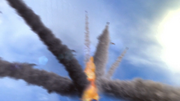 Notes