Cobra Kai Season 4 - The Loop
Play Sound
"Who's the big tough guy now, huh? Is that you? Is that you? You're the big man? Try and hit me now, bitch. Try and hit me now! Try and hit me now, bitch."
―Spooge to Jesse after he is knocked unconscious.
Spooge was a dangerous drug addict who stole meth from Skinny Pete at knife-point with help from his nameless wife.
History
Background information
Spooge and his wife had a child at some point, but were more focused on doing drugs than looking after their son. Spooge was also one of Saul Goodman's clients.
Season 2
Skinny Pete is held up by Spooge and his wife who make off with an ounce of meth. ("Breakage").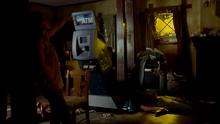 After Skinny Pete finds their address, Jesse Pinkman shows up at their home with a gun in an attempt to retrieve the stolen drugs and/or cash payment from the two. Spooge attempts to repay Jesse by breaking open an ATM he had stolen from a convenience store (after murdering the store clerk), but while attempting to drill into the machine from the bottom, he begins verbally abusing his wife who gets fed up and tips the ATM over, crushing Spooge's head and killing him instantly. ("Peekaboo")
Spooge's death was attributed to Jesse among his associates and rivals for a short period until the woman confessed to the murder. ("Mandala")
Murders committed by Spooge
Convenience Store Clerk: Stabbed during the theft of an ATM. ("

Peekaboo

")
Appearances
Trivia
In an online Q&A session, David Ury speculated that Spooge "was an EMT or an RN who started using prescription meds that he had access to...and eventually fell into meth use." This is supported by cues in the script, such as a few instances where Spooge uses sophisticated medical terminology.