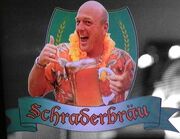 Schraderbräu is a homebrew beer brewed by Hank Schrader. He is seen bottling the beer in Breakage, the fifth episode of season 2. He offers a six-pack of the beer as a prize in a fundraiser for Walt's cancer treatment in ABQ, the thirteenth episode of season 2.
Hank hears exploding bottles of Schraderbräu and believes there is an intruder in his home, which was triggered his PTSD after he witnesses a cartel-linked bombing in El Paso. ("Breakage")
Trivia
A real-life Schraderbräu is in the making. It was announced in March 2019 that Sony Pictures chose Figueroa Mountain Brewing Company to brew the beer.[1]
External link
Community content is available under
CC-BY-SA
unless otherwise noted.