Lillian Simmons works as a Librarian at an Albuquerque Public Library branch.
History
Season 4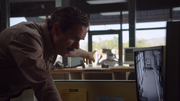 She was knocking on the door to the suddenly closed TravelWire office at the time that Lalo Salamanca was reviewing the security footage behind the desk and Lalo waves her off pointing to the "closed" sign. ("Winner")
Season 5
The Albuquerque Police Department investigated Fred Whalen's murder at TravelWire and found Ms. Simmons as a possible witness to that crime and noted that in their reports, which Mike Ehrmantraut later receives.
Mike, posing as Investigator "Dave Clark", tracks Ms. Simmons down at her job and asks her further questions about what she saw at the TravelWire office. She tells Mike that she did not see much. He asks her to recognize the car that she saw in the parking lot at that time and she identifies a Chevrolet Monte Carlo, the same car that Lalo Salamanca drives.
Mike then convinces Ms. Simmons to come forward to the Albuquerque Police Department with her new information that puts Lalo Salamanca at the scene of Fred Whalen's murder. Later on, Mike has the APD use this new information to find and arrest Lalo Salamanca, who is using the alias "Jorgé de Guzman" at the time of the traffic stop. ("Wexler v. Goodman")
Later, Mike hands Jimmy a dossier with the pertinent information from his visit to Lily Simmons. With this information proving that the main witness was coached by a private investigator, Jimmy is able to get Lalo released on bail. ("JMM")
Appearances
Better Call Saul
Community content is available under
CC-BY-SA
unless otherwise noted.