Spider-Man: No Way Home Trailer Dropped - The Loop
Play Sound
Giancarlo Giuseppe Alessandro Esposito (Italian pronunciation: [dʒaŋˈkarlo dʒuˈzɛppe alesˈsandro eˈspɔːzito]; born April 26, 1958) is an American actor. He is best known for portraying Gustavo Fring in the AMC crime drama series Breaking Bad (2009–2011) and the prequel series Better Call Saul (2017–present). For his role as Gus, he won the Critics' Choice Television Award for Best Supporting Actor in a Drama Series and earned three nominations for the Primetime Emmy Award for Outstanding Supporting Actor in a Drama Series.
Esposito's other television roles include Federal Agent Mike Giardello in the NBC police drama series Homicide: Life on the Street (1998–1999), Sidney Glass / Magic Mirror in the ABC supernatural drama series Once Upon a Time (2011–2017), Tom Neville in the NBC science fiction series Revolution (2012–2014), Dr. Edward Ruskins in the Netflix comedy-drama series Dear White People (2017–present), Stan Edgar in the Amazon Prime Video superhero drama series The Boys (2019–present), and Moff Gideon in the Disney+ space western drama series The Mandalorian (2019–present), the lattermost of which earned him two Primetime Emmy Award nominations. He also portrayed American Baptist pastor and politician Adam Clayton Powell Jr. in the TV series Godfather of Harlem (2019–present).
He is also known for his appearances in several Spike Lee films, such as School Daze (1988), Do the Right Thing (1989), Mo' Better Blues (1990), and Malcolm X (1992). Esposito's other major films include Taps (1981), King of New York (1990), Harley Davidson and the Marlboro Man (1991), Fresh (1994), The Usual Suspects (1995), Ali (2001), Last Holiday (2006), Gospel Hill (2008), Rabbit Hole (2010), Maze Runner: The Scorch Trials (2015), The Jungle Book (2016), Money Monster (2016), Okja (2017), Maze Runner: The Death Cure (2018), and Stargirl (2020). He also portrays The Dentist in video game Payday 2 (2013) and Anton Castillo in Far Cry 6 (2021).
Bio
Giancarlo Esposito was born in Denmark to an Italian father and African-American mother. He lived in Europe until he was six years old when his family settled in Manhattan. At age 8 he made his Broadway premier on the musical Maggie Flynn. Since then, Giancarlo has been acting for the stage and screen. In 1979 he began acting in movies and has appeared in over 130 TV shows and films. He appeared in a handful of Sesame Street episodes and other TV shows until his first break, landing the role of Detective Paul Gigante on Bakersfield P.D. in 1993. In 1998 he appeared in 22 episodes of Homicide: Life on the Street as Agent Mike Giardello.
He continued with recurring and guest TV roles until 2009 when he was cast as Gustavo Fring in Breaking Bad, a role for which he won the Best Supporting Actor in a Drama Series Award at the 2012 Critics' Choice Television Awards and was nominated for an Outstanding Supporting Actor in a Drama Series at the 2012 Primetime Emmy Awards and again at the 2019 Primetime Emmy Awards. Giancarlo reprised his role as Gus for the series Better Call Saul.
Giancarlo has also appeared in dozens of notable films, including The Usual Suspects. Smoke, Bob Roberts, and Spike Lee's Do the Right Thing. He was cast in the TV series Once Upon a Time and Revolution. He directed the 2008 film Gospel and is in pre-production in directing a film titled This is Your Death.
In 2017, Giancarlo was brought back by Vince Gilligan to reprise his role as Gustavo Fring from Season 3 onwards of the Breaking Bad spin off prequel series, Better Call Saul. He has since been appearing as a main character on the series. 
Most recently, he was seen in season 2 of HBO's hit series Westworld, where he plays one of the renegade androids who chooses to destroy himself rather than submit to his programming. Also very recently, he has appeared in the first season of Disney+ Star Wars series' The Mandalorian as Moff Gideon, who is the main antagonist of both the season and likely most of the series. He hosted the series The Broken and the Bad, which was directed by his daughter Ruby.
In July 2020, Esposito began teasing his role in "a huge video game". His role was later revealed as the main antagonist of Ubisoft's Far Cry 6, in which he would portray and voice Anton Castillo, the dictatorial ruler of Yara.
Appearances
Video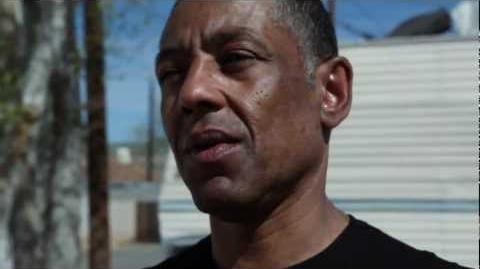 Trivia
Esposito and Aaron Paul worked together previously on the Ghost Whisperer episode "Fury" in 2006.
External links