Giancarlo Esposito is an American actor who plays Gustavo Fring on Breaking Bad and Better Call Saul.
Bio
Giancarlo Esposito was born in Denmark to an Italian father and African-American mother. He lived in Europe until he was six years old when his family settled in Manhattan. At age 8 he made his Broadway premier on the musical Maggie Flynn.
Since then, Giancarlo has been acting for the stage and screen. In 1979 he began acting in movies and has appeared in over 130 TV shows and films. He appeared in a handful of Sesame Street episodes and other TV shows until his first break, landing the role of Detective Paul Gigante on Bakersfield P.D. in 1993. In 1998 he appeared in 22 episodes of Homicide: Life on the Street as Agent Mike Giardello. He continued with recurring and guest TV roles until 2009 when he was cast as Gustavo Fring in Breaking Bad.
Giancarlo has also appeared in dozens of notable films, including The Usual Suspects. Smoke, Bob Roberts, and Spike Lee's Do the Right Thing.
After his character was killed off in Breaking Bad, Giancarlo was cast in the TV series Once Upon a Time and Revolution. He directed the 2008 film Gospel and is in pre-production in directing a film titled This is Your Death.
Giancarlo and Aaron Paul worked together previously on the Ghost Whisperer episode "Fury" in 2006.
Most recently, he was seen in season 2 of HBO's hit series Westworld, where he plays one of the renegade androids who chooses to destroy himself rather than submit to his programming.
Appearances
Video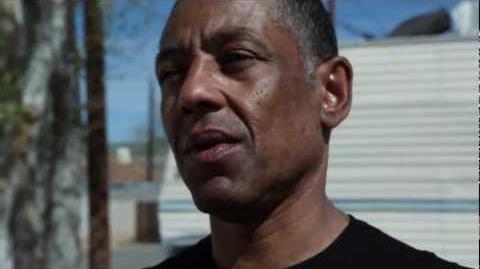 External links
Community content is available under
CC-BY-SA
unless otherwise noted.