The El Paso Intelligence Center (EPIC) was established in 1974 in response to a study by the Justice Management Division of the U.S. Department of Justice entitled, "A Secure Border." Recommendation number 7 of this study suggested the establishment of a southwest border intelligence center to be led by the Drug Enforcement Administration (DEA) and staffed by representatives of that agency, as well as the U.S. Customs Service. The initial focus of the Center was to assist in the identification of drug traffickers and alien traffickers along the U.S. - Mexico border.
The El Paso Intelligence Center is the headquarters for the El Paso DEA division, of which the Albuquerque DEA Field Office is a subdivision. It is home to the Tri-State Border Interdiction Task Force.
History
Season 2
Calling Hank Schrader a "great white" and praising his abilities as an agent, George Merkert reveals that he will be splitting his time between Albuquerque and El Paso from then on. ("Breakage")
Around a week later, Hank arrives in El Paso and quickly realises he doesn't fit in. He jokes about the idea of drug dealers praying to their patron saint, Jesús Malverde. When he asks his colleague Vanco why the saint's statue sits on his desk, the agent says that it's to help him know his enemy.
Hank returns from EPIC after an explosion in the desert when meeting an informant where Vanco loses part of his leg. ("Negro y Azul")
Season 3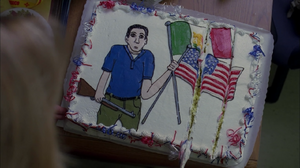 Around 3 months after the explosion, Hank tells Steven Gomez that he will be returning to El Paso. ("I.F.T.")
About a week later, Marie Schrader dropped Hank off at the airport. Before he enters the airport, he receives a call about blue meth and elects to stay in Albuquerque. ("Green Light")
Another few days later, Gomez tells Hank that he is being sent to El Paso in Hank's place. Gomez's colleagues throw a party for him in this office to celebrate his promotion. ("Más")
Community content is available under
CC-BY-SA
unless otherwise noted.