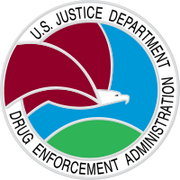 The Drug Enforcement Administration or D.E.A. is a law enforcement agency under the United States Department of Justice, tasked with combating drug smuggling and use within the United States.
Hank Schrader, Walter White's brother-in-law is an agent with the D.E.A. . At his department in Albuquerque, his partner is Steven "Gomie" Gomez and his superior was George Merkert. When Merkert was forced out due to failing to see Gus' Drug Empire, Hank was made the new ASAC. After ASAC Schrader and Agent Gomez were murdered, it is unknown who the next ASAC would be.
The D.E.A. operates 227 field offices across the United States including the Albuquerque office. The offices are managed by their domestic field divisions. There are a total of 21 divisions. Albuquerque reports to the El Paso division.
Members
SAC Ramey, Special Agent in Charge, El Paso division

ASAC George Merkert, Former Assistant Special Agent in Charge, Albuquerque Unit
ASAC Hank Schrader, Assistant Special Agent in Charge, Albuquerque Unit

Agent Steven Gomez, Drug Enforcement Administration Agent, Albuquerque Unit
Agent Artie, Drug Enforcement Administration Agent, Albuquerque Unit
Agent Scott Hoffman, Drug Enforcement Administration Agent, Albuquerque Unit
Agent Van Oster, Drug Enforcement Administration Agent, Albuquerque Unit
Agent Palmer, Drug Enforcement Administration Agent, Albuquerque Unit
Agent Castanares, Drug Enforcement Administration Agent, Albuquerque Unit
Janice, Hank Schrader's secretary, Albuquerque Unit
Vicky, administrative staff, Albuquerque Unit

Agent Vanco, Drug Enforcement Administration Agent, Tri-State Border Interdiction Task Force
Erol Doughty, unknown position, Houston Unit