Season 1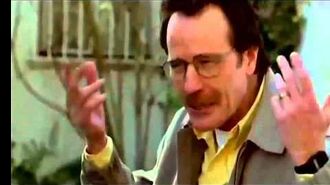 Walt tabulates the number of days, weeks, and minutes he's been alive.

Irving helps him out with the exact number of minutes
A siren sounds and Hank, Gomie, and Marie roll up to Walt's party.
"Irving" toasted Walt at Hank Schrader's invitation along with the other guests .

Walt and Walt Jr. yank nails out of the wall of Holly's future room
Walt and Jesse examine the cooking paraphernalia Jesse just purchased (included in the Pilot (2005 script)
Walt and Skyler arrive at the Schwartz Residence, enter the house and get served champaign

the main portage where they arrive was seen in the final cut while they were exiting and Walt gets angry at Skyler for disclosing his cancer diagnosis to Eliot
Badger attempt to shoot javelinas and birds outside the RV when he is beckoned in by Jesse. After putting on a gas mask he impersonates Darth Vader
Season 2
Hank loads rounds into a magazine
Walt wipes off steam to peak at his appearances in a mirror after he takes a shower
Walt entered Jr's room with blueberry muffins and suggests that they do something togehter that day
Saul consoles Walt on being kicked out of the house the detail of Saul's three marriages is later confirmed in the Better Call Saul episode "JMM"
Walt enters the classroom to an unexpected applause, from students who unbeknownst to him have learned of Walt's diagnosis
Francesca hands Saul the JP Wynne High School yearbook as part of his effort to find Heisenberg.This scene is later recreated in the Better Call Saul: Client Development (2015) comic.
Jesse and Jane kiss when Jesse enters the kitchen.
Walt coughs while the family is in the waiting room.
Walt remembers what his doctor told him.
Walt shows his class an eggsperiment.
Skyler finds Walt and Walt Jr baby proofing in the kitchen
Holly comes home.
Walt walks Jesse to Mike's car after rescuing him from the crack house.
Walt and Skyler walk back the car and Walt thinks he's ok driving.
Season 3
Students rushing to the gym for the assembly, Walt walks among them, disillusioned
Skyler visits Walt's apartment
Cop pepper sprays Walt's face
Saul visits Walt while he's doing laundry
Marie drops Hank at the airport
Hank and Steve Gomez question a criminal about meth
Walt exercising
Jesse visits Andrea with a present for Brock
Jesse plays with Brock and his phone rings
Walt Jr talks to his parents about getting a car
Walt and Skyler take off after touring 308 Negra Arroyo Lane
Mike joking around with Kaylee Ehrmantraut In the car
Walt gives Gus options (alternative take of a scene in "

Full Measure

")
Season 4
- [Episode 4x01 - Box Cutter] Extended and Alternate Scenes (2 min.)
Alternate takes from a henchman's exceptionally graphic death sequence. Scènes alternatives du mort de l'homme de main a Gus.
[Episode 4x03 - Open House] Extended and Alternate Scene (SD, 2 min.) An extended scene of Aaron Paul go-karting, which should have made the final cut. It's masterfully filmed.
[Episode 4x06 - Cornered Extended and Alternate Scene] (SD, 3 min.)
Watch more of Walt collecting the key from the car wash.
[Episode 407 - Problem Dog] Deleted Scene -In this mildly comical scene, Skylar charges Walt for a purchase at their own car wash.
[Episode 408 - Hermanos] Extended and Alternate Scene (SD, 2 min.) - Jesse uses Saul to keep tabs on his ex-girlfriend and her kid.
Episode 4x09 - Bug] Extended Scene (SD, 4 min.) Ted visits Skyler at the car wash, extended scene.
[Episode 4x10 - Salud] Deleted Scene (SD, 3 min.) Walt Jr.'s 16th awkward birthday, showing his partial family's make-shift party.
[Episode 4x10 - Salud] Extended and Alternate Scene (SD, 5 min.)
Watch the full cut of Saul informing Ted about his great aunt's death.
[Episode 4x11] Deleted Scene (SD, 1 min.) Less than a minute long, this scene should've stayed in the final cut. It shows Jesse's reaction to Gus visiting "Tio Hector."
Community content is available under
CC-BY-SA
unless otherwise noted.