Doctor Strange in The Multiverse o Madness - The Loop
Play Sound
"Dedicado a Max" is the fifth episode of the fifth season of Better Call Saul and the forty-fifth episode of the series altogether.
Summary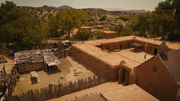 After waking up at the Mexican compound, Mike wanders into the kitchen and asks the cook, Señora Cortazar, where he is, learning that the phone can't make long-distance calls. Mike leaves the property and walks some distance down a dirt road. He finds and sits next to a road marker, where he notices that the battery of his phone is dead. Gus's doctor, Barry Goodman, approaches Mike and states that Gus has tasked Barry with keeping him alive. Mike begrudgingly allows Barry to take him back to the compound.
Act I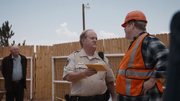 In Tucumcari, a demolition crew is making preparations to empty and bulldoze Everett Acker's house when Jimmy, acting in his capacity as Acker's attorney, approaches them. Jimmy and Acker persuade a sheriff's deputy that the address on the eviction order in incorrect, forcing the demolition to be delayed by a day. Later, at the Albuquerque Country Club, Kevin meets with Kim and Paige and complains about Jimmy's stalling tactic. Kim tries to withdraw from the case, citing the conflict of interest of having Jimmy, her boyfriend, being Acker's counsel. Kevin suspects that Acker hired Jimmy precisely to have Kim removed from the case, and insists that she press ahead with building the Tucumcari call center.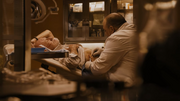 Meanwhile, at the Mexican compound, Mike's wound from his stabbing is being stitched by Barry, who tells him that he is free to leave and take a bus back to the U.S. from a nearby town, but warns that he won't survive the journey unless he is fully recovered. Mike remains curious why Gus went through so much trouble to get him treated. Exploring the rustic compound, he encounters a crowd of schoolchildren running past a brand new fountain in a public square. On the fountain is a plaque dedicating the fountain to "Max".
Act II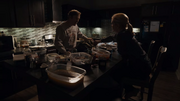 At Kim's apartment, Jimmy is cooking curry in the kitchen when Howard phones him, asking if he has considered his offer of a job at HHM. Jimmy falsely tells Howard that he is mulling it over and rudely hangs up on him. After doing so, Jimmy strikes and breaks a ceramic object in a duffel bag with a hammer. Kim comes home and informs Jimmy that Kevin has refused to remove her from the Acker case. Jimmy asks Kim to recount her discussion with Kevin in detail, urging her to make a mocking imitation of his sitting posture and drawling accent. Roleplaying the impromptu skit causes Jimmy and Kim to decide to take a shower together.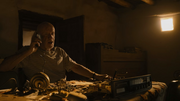 At the compound, Mike tries and fails to contact Gus on the landline telephone. Since the battery for his own mobile phone is still dead, Mike attempts to improvise a means of charging it using various scraps of electrical equipment he finds lying around his quarters. While Mike is in the process of tinkering, Señora Cortazar hands him an actual charger. Mike is able to activate his phone and make a call to Gus, questioning him about why he has been taken to the compound. Gus tells him that now is not a good time to answer him and ends the call.
Meanwhile, in Tucumcari, Jimmy has planted the pottery he shattered the previous night on Acker's property and claims that his house sits on a purported Native American archeological site, necessitating yet another delay in Acker's eviction. This becomes the first of many obstacles Jimmy throws in the way of the demolition crew, raising frivolous disputes over obscure state law, staging a radioactive soil contamination, and faking a miraculous image of Jesus on Acker's fence, causing delay after delay. Frustrated by Jimmy's antics, Kevin and Paige meet with Kim and Rich at Schweikart & Cokely. Kim explains that Jimmy is trying to force Mesa Verde back to the negotiating table, while Rich suggests that they follow Kim's plan of building the call center at an alternative site. Despite the prospect of Mesa Verde facing a years-long court battle if he continues to fight Acker, a stubborn Kevin angrily insists on his eviction.
Act III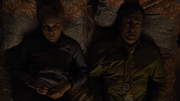 That night, Kim and Jimmy discuss the Acker case in bed. Despite Jimmy's assurances that she did the best she could do for Acker, Kim has resigned herself to his impending eviction. Despite telling Kim that the pragmatic thing to do is to take the loss and move on, Jimmy entices her with the idea that there is still "another play" to help Acker: "going after" Kevin and forcing him a compromise. Jimmy makes a phone call to Mike, who is still convalescing at the compound in Mexico, and offers him a paying job performing "oppo research"; Mike flatly refuses. After ending the call, Mike helps Señora Cortazar prevent water from leaking through a window during a rainstorm. The following morning, Mike performs repair work on the faulty windowsill.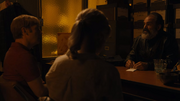 At the nail salon, Jimmy and Kim meet with another of his criminal contacts, Sobchak, who has done a thorough search of Kevin's background. In Jimmy's back office, Sobchak admits that he surreptitiously broke into and searched Kevin's house, but states that he could not find anything damaging about him. Jimmy is wary of Kim hearing about Sobchak's illegal activities, but Kim insists on getting the full details. Sobchak hands them several photographs he took of Kevin's home office. When Sobchak suggests that Kevin be abducted and taken out to the desert to be threatened, Jimmy ends the meeting and dismisses him. Jimmy apologizes for Sobchak's outburst, but Kim, having noticed something in the photographs from Kevin's house, gives him a knowing smile as she comes up with a new plan.
Act IV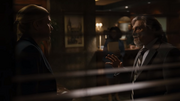 The next day, at S&C, Kim is looking at images of Mesa Verde's cowboy logo when Rich enters her office. Rich suggests to Kim that she temporarily disengage from her work on Mesa Verde. When pressed by Kim, Rich implies that he has seen through her actions and has deduced that she and Jimmy have been working against Mesa Verde on the Acker case. Incensed, Kim follows Rich into the hallway outside and, in front of other staff members, angrily denies that she is throwing the Tucumcari case against her own client. She returns to her office and sulks.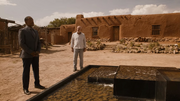 At the compound, Mike is about to finish repairing the window when he overhears Gus conversing with Señora Cortazar in the next room. He walks outside to find Gus standing at the fountain in the public square. Gus tells Mike that he does not want Señora Cortazar to know about their association, preferring to keep his criminal dealings as far away from the compound as possible. When Mike further queries what Gus wants with him, Gus replies that Mike faces a choice: that he either continue his self-destructive behavior or return to Gus's employ as a soldier in his war against the Salamancas. Mike balks at the idea of being Gus's "button man", but Gus finally tells him why he is so interested in Mike's wellbeing: because Mike understands Gus's need for revenge.
Trivia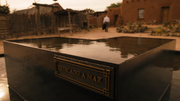 Production
Credits
Tim Stafford as Hazmat Technician
Jennifer Pfalzgraff as Frustrated Worker
Fredrick Lopez as Mechanic
Ruben Barela as Quay County Deputy Sheriff
Rob Estrada as Golfer
Featured Music
"Blackbird Special" by Stanton Moore
Memorable Quotes
Jimmy: "You gave it all you could."
Kim: "Yeah?"
Jimmy: "Yeah! You went the distance for the old SOB, above and beyond. You should feel good about that."
Kim: "You think so?"
Jimmy: "You gave Acker more than he deserved... and uh, let's be real. Putting me on this? That was bad. I mean, if anyone found out...? You risked a lot for this guy. [sighs] Look, by this time next week, Acker will be living somewhere else. Is that really such a big deal? Plus, Mesa Verde... that's your bread and butter. You can only push 'em so far. [pause] There's always another play... but the rational thing to do here is close the deal, get the guy a few bucks, pop the champagne with the other winners and smile like you mean it. You wanna beer? I'm gonna get one. [Jimmy gets up]"
Kim: "Or? [Jimmy turns back] Jimmy?"
Jimmy: "...There's no reason on God's green earth to take this any further. It's not worth it."
Kim: "Or?"
Jimmy: "Or... we go after Kevin Wachtell. It gets nasty, it gets personal, it gets dangerous.[Jimmy opens the beers in the kitchen. Kim comes up to him]"
Kim: "Okay."
Jimmy: "Okay!"
―Kim and Jimmy discussing the Acker situation after Kevin decides to keep contesting the land despite Jimmy's delaying tactics
---
Rich: "I'm thinking you could take a break from Mesa Verde."
Kim: "A break?"
Rich: "Actually, a pair of mineral rights beefs just came in. They practically have your name on them. You can split your time between that and your pro bono clients."
Kim: "Mesa Verde is my client."
Rich: "And they still will be. I'll just step in and take point, just on a temporary basis. And, of course, it goes without saying, this won't affect any of your compensation. And that includes your bonus."
Kim: "You know, Mesa Verde is fully informed of any potential conflicts. Kevin signed it off himself."
Rich: "Still, I think you're going to need to take a break. [gets up to leave]"
Kim: "I don't understand where this is coming from."
Rich: "Don't you? [pause] Kim... Sometimes the less said the better."
Kim: "And why is that?"
Rich: "Do we have to?"
Kim: "Yes, we do."
Rich: "Alright. First, I had to twist your arm to get you down to Tucumcari for the eviction. Then, you put the full court press on Kevin to change sites. That doesn't work, and–abra-cadabra–your boyfriend's opposing counsel."
Kim: "I told you, I explained the situation to Kevin and Paige."
Rich: "Yeah, I know you did. And I'm sorry to say... I'm just not buying it."
―Rich suggesting to Kim that she temporarily disengage from her work on Mesa Verde.
---
Mike: "So I'm here... to see what a big heart you have. Is that the idea? You throw money at these people, they bow low."
Gus: "As far as the people here are concerned, I am the doctor's friend, and nothing more."
Mike: "They have no idea you financed the whole place?"
Gus: "I prefer it that way."
Mike: "The anonymous benefactor. Oh, that must make you feel pretty good. And is that supposed to balance the scales? Make up for everything else you do?"
Gus: "It makes up for nothing. I am what I am."
―Mike receives a visit from Gus at the ranch where he was kept for several days.
---
Gus: "It seems to me that you are at a crossroads. You can continue as you are... drinking, estranged from your family, brawling with street hoods. We both know how that ends."
Mike: "Yeah."
Gus: "You have another choice."
Mike: "Mmm... work for you as a button man."
Gus: "I am in a war. I need a soldier."
Mike: "So, I'm gonna work for one drug dealer killing other drug dealers. That's your idea of a choice?"
Gus: "You know better. You have met them. You know what they are."
Mike: "Meaning the Salamancas? And you are so very different from them?"
Gus: "Yes. I am different."
Mike: "[pause] Why me?"
Gus: "Because I believe that you understand."
Mike: "Understand what?"
Gus: "Revenge."
―Gus convincing Mike to join him on his crusade against the Salamancas.
Videos