Daniel "Dan" Wachsberger was a lawyer that represented nine of Gustavo Fring's henchmen after they were arrested following Fring's murder.
History
Season 5
In July 2009, after Gus' Drug Empire crumbled and the DEA seized all of the associates' funds from the Cayman islands, Mike Ehrmantraut (who was masquerading as Dan's paralegal) and Dan visited all nine henchmen in prison. Their first visit was to Dennis Markowski at Metropolitan Detention Center, the former manager of the Lavandería Brillante where Gus's superlab was stored. As Dan sat listening to music on his headphones, Mike assured Dennis that he and the other men in jail would receive their pay.
According to Mike, he and Dan visited the other men in jail on the same day. ("Hazard Pay")
Dan was making scheduled drops to 9 safety deposit boxes at a bank in Albuquerque. One day, in addition, he made a larger deposit for Kaylee Ehrmantraut. After the DEA dropped the search against Mike they turned their attention to Dan on orders from ASAC Hank Schrader. He was caught in the act at the bank's vault by Steven Gomez and two other plainclothes agents and was arrested. According to Gomez, he flipped fairly easily on Mike. ("Say My Name")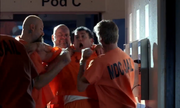 Because he was now being charged for his part in the hazard pay scheme, Dan was added to the list of men whom Lydia Rodarte-Quayle wanted murdered. Walter White, in order to ensure that none of Gus's former employees could testify against him, arranged with white supremacist gang leader Jack Welker to have Dan and the other men killed within a two-minute window.
While being held at MDC meets his end when he's stabbed to death by members of Jack Welker's white supremacist gang, ironically, while on the phone to his own lawyer. ("Gliding Over All")
Appearances
Notes
↑ Dan wears a wedding ring, clearly visible in "

Hazard Pay

"
Community content is available under
CC-BY-SA
unless otherwise noted.