Doctor Strange in The Multiverse o Madness - The Loop
Play Sound
"

I'm starting to feel bad that Jimmy's gonna be this guy who has abandoned any idealism he had, and the hope of being a good person. The only person on Earth left for Jimmy to care about and for the love and respect to earn is Kim.

"
― Bob Odenkirk on his character Jimmy McGill
Robert John Odenkirk (born October 22, 1962) is an American actor, comedian, writer, director, and producer. He is best known for his role as crooked lawyer Jimmy McGill aka Saul Goodman on the AMC crime drama series Breaking Bad and its prequel series Better Call Saul, for which he received four nominations for Primetime Emmy Award for Outstanding Lead Actor in a Drama Series. He is also known for the HBO sketch comedy series Mr. Show with Bob and David, which he co-created and starred in with fellow comic and friend David Cross.
Odenkirk was born in Berwyn, Illinois in 1962 and studied at the Southern Illinois University Carbondale where he began his comedy career as a DJ at his college's radio station. After college, Odenkirk's pursuit of comedy led him to join the The Players Workshop of the Second City which eventually led him to landing a writing job at Saturday Night Live in 1987. Also in the early '90s, Odenkirk wrote for The Ben Stiller Show, Late Night with Conan O'Brien and The Dennis Miller Show. In 1995 Odenkirk and collaborator David Cross created the sketch comedy show Mr. Show with Bob and David for HBO where Odenkirk and Cross starred, directed, and wrote.
Odenkirk continued to write, act, and perform stand up comedy after Mr. Show's end in 1998. He has appeared in dozens of TV shows including How I Met Your Mother and Arrested Development. In the 2000's, he shifted to more of a producer capacity on comedy shows including Tim and Eric Awesome Show, Great Job! and Tom Goes to the Mayor. In 2008, He is still very active in the comedy scene and creates and stars in videos for Funny or Die. In 2009, he made his first appearance as Saul Goodman in the Breaking Bad episode Better Call Saul, and became a main cast member for the last three seasons. Odenkirk is currently reprising his role as Saul in the prequel series Better Call Saul, which explores his life before the events of Breaking Bad.
Biography
Robert John Odenkirk was born in Berwyn, Illinois, to Barbara (Baier) and Walter Odenkirk, who worked in printing. His ancestry includes German and Irish. He grew up in Naperville, IL, the second of seven children. He worked as a DJ for WIDB, his college radio station at Southern Illinois University Carbondale.
Odenkirk attended Naperville North High School and graduated at 16; he was "tired of high school", and because he had enough credits, he was able to leave high school when he was still a junior. Because he was so young and thought he would be awkward at any college, he decided to attend the local College of DuPage in Glen Ellyn, Illinois. After a year, he went to Marquette University in Milwaukee, Wisconsin, then transferred to Southern Illinois University in Carbondale, Illinois, "honing his sketch-writing and performance skills with live shows on both colleges' radio stations." He began his foray into comedy writing as a radio DJ for WIDB, the local non-broadcast college station at SIU. At WIDB he created a late-night (midnight to 4 am) radio comedy show called The Prime Time Special. He worked beside other fledgling stars like Greg Weindorf and Matt Helser. After three years of college, Odenkirk was three credits short of graduating when he decided to try writing and improv in Chicago. He completed the credits at Columbia College Chicago and received his bachelor's degree from SIU in 1984. First studying with Del Close, Odenkirk attended the Players Workshop where he met Robert Smigel, and they began a collaboration that would last for years and take Odenkirk to Saturday Night Live. He also performed at the Improv Olympic alongside notable comedians Chris Farley and Tim Meadows.
Three credits shy of graduation, he moved to Chicago. He began work there in local improv workshops. He also did open-mic stand-up comedy for several years. In Chicago, he became friends with Robert Smigel, who would later help him become a writer for Saturday Night Live (1975). In 1987, Odenkirk was hired as a writer for Saturday Night Live (1975) and in 1989 he went on to win an Emmy for his writing work. He worked on the show from season 13 to 20 (1987-1995). However, he had trouble getting his work on the air, so he began work as a writer for Get a Life (1990) starring Chris Elliott. The show was quickly canceled, but he was soon hired as writer for The Dennis Miller Show (1992). On that show he made his acting debut and was noticed by Ben Stiller, who later hired him as a writer and actor for The Ben Stiller Show (1992). The show only lasted for 13 episodes, but Bob won another Emmy for his writing.
After The Ben Stiller Show (1992) was canceled, Bob made recurring appearances (1993-1998) on The Larry Sanders Show (1992) as Stevie Grant, Larry's hyperactive agent. He also wrote for Late Night with Conan O'Brien (1993) during 1993-94. During this time Bob hooked up with fellow The Ben Stiller Show (1992) writer David Cross, also a stand-up comedian. They started doing sketch-comedy shows together in Los Angeles. In 1995, they got their own show on HBO (Mr. Show with Bob and David) (1995). The show lasted for four seasons and 30 episodes.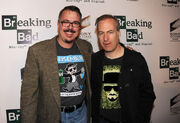 After Mr. Show with Bob and David (1995) ended, Bob wrote Run Ronnie Run (2002) and directed three feature films (Melvin Goes to Dinner (2003), Let's Go to Prison (2006) and The Brothers Solomon (2007)), and appeared in. After 1998, he also made many guest appearances on TV shows like Just Shoot Me! (1997), 3rd Rock from the Sun (1996), Curb Your Enthusiasm (2000), Ed (2000), Everybody Loves Raymond (1996), Less Than Perfect (2002), Arrested Development (2003), How I Met Your Mother (2005) and Weeds (2005). From 2009 to 2013, he appeared on 43 episodes of Breaking Bad (2008) as Saul Goodman, a shyster lawyer, and, starting in 2015, he reprised that role as the main protagonist in Better Call Saul (2015). The success of Breaking Bad and Better Call Saul led to acting work in high-profile projects, such as Nebraska, directed by Alexander Payne; Fargo, written and created by Noah Hawley; The Post, directed by Steven Spielberg; Disney/Pixar's Incredibles 2, written and directed by Brad Bird; and Little Women, written and directed by Greta Gerwig. In 2021, Odenkirk starred in the action film Nobody, to positive reviews.
On July 27, 2021, Odenkirk was hospitalized in New Mexico after collapsing on the set of season 6 of Better Call Saul. The following day, it was reported that he had experienced a "heart-related incident", which was later revealed to be a small heart attack, and was in stable condition. On July 30, 2021, Odenkirk posted a message on social media[1] to indicate that he is doing well and to thank all those who have expressed their support and love. In September 2021, Odenkirk announced that he had returned to filming Better Call Saul. Filming on the final season wrapped up in February 2022, and Odenkirk stated on social media that he was thankful to have been a part of the series.
Appearances
Better Call Saul credits
Producer
Trivia
Odenkirk has said his strongest comedic influence was Monty Python's Flying Circus, primarily due to its combination of cerebral humor and verbal slapstick, which Odenkirk characterized as "laugh-out-loud" humor. Some of his other influences included radio personality Steve Dahl, SCTV, Steve Martin's Let's Get Small, The Credibility Gap, and Bob and Ray.
External links
Notes