Doctor Strange in The Multiverse o Madness - The Loop
Play Sound
This article is about the TV series spin-off from Breaking Bad. For the Breaking Bad episode, see Better Call Saul (episode).
For the original score, see

Better Call Saul (Original Score from the Television Series)

.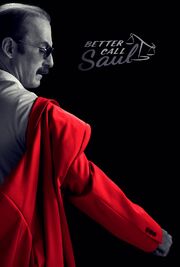 Better Call Saul is an American crime drama television series created by Vince Gilligan and Peter Gould. It is a spin-off, prequel, and a sequel to Gilligan's previous series, Breaking Bad. Set primarily in the early to middle part of the first decade of the 2000s in Albuquerque, New Mexico, the series develops Jimmy McGill (Bob Odenkirk), an earnest lawyer and former con artist, into a greedy criminal defense attorney known as Saul Goodman. Also shown is the moral decline of retired police officer Mike Ehrmantraut (Jonathan Banks), who becomes closely affiliated with The Cartel and Gustavo Fring (Giancarlo Esposito) to support his granddaughter and her widowed mother. Jimmy and Mike's interactions remain sporadic until their respective storylines fully converge. The show premiered on AMC on February 8, 2015, and the sixth and final season, consisting of 13 episodes, premiered on April 18, 2022.
At the start of the series, Jimmy struggles financially while working as a public defender. He lives in the back room of a nail salon which doubles as an office. His romantic interest and former colleague, Kim Wexler (Rhea Seehorn), is an attorney at Hamlin, Hamlin & McGill (HHM), a law firm co-owned by Jimmy's brilliant but unwell brother, Chuck McGill (Michael McKean) and proud associate, Howard Hamlin (Patrick Fabian). After hiring Jimmy as legal representation, Mike provides advice and security for Nacho Varga (Michael Mando), an intelligent drug dealer who later becomes a mole for Gus Fring, a drug lord and legitimate businessman. Their operations are disrupted by members of the murderous Salamanca family, including Lalo Salamanca (Tony Dalton). Odenkirk, Banks, and Esposito reprise their roles from Breaking Bad, as do many others who make guest appearances.
Better Call Saul has received critical acclaim, with particular praise for its acting, characters, writing, direction, and cinematography; many critics have called it a worthy successor to Breaking Bad and one of the best prequels ever made, with some deeming it superior to its predecessor. It has garnered many nominations, including a Peabody Award, 21 Primetime Emmy Awards, eleven Writers Guild of America Awards, five Critics' Choice Television Awards, four Screen Actors Guild Awards, and four Golden Globe Awards. At the time of its airing, the series premiere held the record for the highest-rated scripted series premiere in basic cable history.
Production
Conception
Vince Gilligan and Peter Gould began planning a television spinoff of Breaking Bad as early as 2009. While filming the Breaking Bad episode "Full Measure", Gilligan asked Bob Odenkirk, the actor of Saul Goodman, what he thought of a spinoff of the show.
In July 2012, Gilligan hinted at a possible Goodman spinoff, stating that he liked "the idea of a lawyer show in which the main lawyer will do anything it takes to stay out of a court of law", including settling on the courthouse steps. During his appearance on Talking Bad, Odenkirk noted that Saul was one of the most popular characters on the show, speculating that the audience likes the character because he is "the program's least hypocritical figure", and "is good at his job".
Gilligan noted that over the course of Breaking Bad, there were a lot of "what if"s their team considered, such as if the show won a Primetime Emmy Award, or if people would buy "Los Pollos Hermanos" T-shirts. The staff did not expect these events to come to fruition, but after they did, they started considering a spin-off featuring Saul as a thought experiment. Furthermore, Saul's character on Breaking Bad became much more developed than the staff had planned, as he was originally slated to appear in only three episodes. With the growth of Saul's character, Gilligan saw ways to explore the character further.
Development
"Better Call Saul tells the story of mall-based super lawyer Saul Goodman in the years before he became Walter White's attorney. From parking tickets to mass murder, from slip-and-fall to bond fraud, Saul handles it all. "
―Press release[1]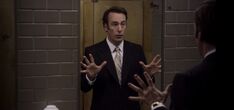 On April 2013, it was announced that a spin-off series focusing on Saul Goodman was being developed by Breaking Bad creator Vince Gilligan and writer Peter Gould; the latter wrote the episode that introduced the character.
In July 2013, Gilligan commented that the series had yet to be green-lit, but he and Gould are "full speed ahead on trying to get going." In developing the series, the producers considered giving the show a half-hour format, but ultimately decided on an hour-long format. The spin-off will be produced by Sony Pictures Television and AMC, air on AMC, and serve as a prequel to Breaking Bad.
During his appearance on Talking Bad, Odenkirk noted that Saul was one of the more popular characters on the show, speculating that the audience likes the character because he is the program's least hypocritical figure, and is good at his job. In September 2013, AMC and Sony Pictures Television confirmed that AMC have bought the rights to screen Better Call Saul in the US and that episodes would be one hour long.[2]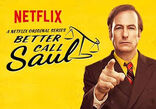 In December 2013 Netflix announced it had secured the rights to stream the series in all territories after the first season finale airs in 2014.[3] In January 2014, it was announced that Jonathan Banks would be reprising his role as Mike Ehrmantraut as a series regular.[4] On June 19, 2014 the first official set photo was released, featuring Bob Odenkirk, Vince Gilligan, and Peter Gould. It was also announced on the same day that Better Call Saul was renewed for a second season, but the first season was pushed back until the first quarter of 2015. Thomas Schnauz and Gennifer Hutchison, both of which worked on Breaking Bad were confirmed for the writing staff of the spin-off.[5]
Gilligan and Gould found that the character of Saul Goodman was not sufficient to carry the show by himself, with Gilligan calling the character of Saul "great flavoring" for a show but not the substance. They came to realize that Saul, in the Breaking Bad timeframe, was a man that had come to accept himself, and recognized the potential to tell the story of how Saul got to be that person. Gilligan and Gould had already committed to the Better Call Saul title, so that going this route, they believed they had to quickly get from Jimmy McGill to Saul Goodman or otherwise would disappoint their audience. However, as they wrote the show, they realized "we don't want to get to Saul Goodman … and that's the tragedy". Gilligan and Gould had learned several lessons related to foreshadowing without writing the foresight for it from Breaking Bad, and so with Better Call Saul, gave themselves more flexibly in how the show's plot would develop over its run, and had no firm idea where it will end up outside the connection to Breaking Bad. For example, Rhea Seehorn's performance as Kim Wexler during the first season significantly altered how the writers used her character in later seasons as well as slowed down the pacing of how fast they transitioned Jimmy into Saul, as they gave more focus to the Jimmy–Kim relationship. Gilligan compared this to the impact Aaron Paul's outstanding acting had on Breaking Bad's ultimate pacing.
In writing for Better Call Saul, Gilligan and Gould recognized they were including overlaps with Breaking Bad, and had ideas of characters they would include, such as Gus Fring, though on no set timetable within the show's development. Gilligan described the writing approach as if developing two separate shows, one that centers on Jimmy/Saul, Kim, Chuck, and Howard, and a second on the more familiar Breaking Bad characters like Mike and Gus with some overlap, as if they were giving the audience two shows for one. Where possible, they had written in minor Breaking Bad characters in smaller parts or as Easter eggs to fans, but for major Breaking Bad characters like Walter or Jesse, Gilligan preferred only to include them if their inclusion did not feel shoehorned in and feel less satisfactory to both the production team and to audiences. Because of the closeness to the Breaking Bad storyline, one of the writers was tasked at the start of each season to rewatch all 62 episodes of the show and verify the scripts for the Better Call Saul season did not introduce any conflicts.
The release of Season 5 was delayed due to El Camino, with the episodes instead released in early 2020. Due the COVID-19 pandemic, early production of Season 6 was done virtually rather than physically. After cases began to drop, it was announced that Season 6 would plan to start airing in either late 2021 or early 2022. In February 2022, filming for Season 6 finished, and it was announced that the season will air from April 2022 to August 2022, and would be split into two parts (like the fifth season of Breaking Bad).
Casting
Bob Odenkirk stars as lawyer Jimmy McGill (known as Saul Goodman in Breaking Bad). In January 2014, it was announced that Jonathan Banks would reprise his Breaking Bad role as Mike Ehrmantraut and be a series regular.
New cast members include Michael McKean as McGill's elder brother Chuck. McKean previously guest-starred in an episode of Odenkirk's Mr. Show and Gilligan's X-Files episode "Dreamland". The cast also includes Patrick Fabian as Howard Hamlin, Rhea Seehorn as Kimberly "Kim" Wexler, and Michael Mando as Ignacio "Nacho" Varga. In October 2014, Kerry Condon was cast as Stacey Ehrmantraut, Mike's daughter-in-law. In November 2014, it was announced that Julie Ann Emery and Jeremy Shamos had been cast as Betsy and Craig Kettleman, described as "the world's squarest outlaws."
Going into Season 3, it was announced that Giancarlo Esposito would return to play his Breaking Bad character Gus Fring.
Tony Dalton was announced as Lalo Salamanca for Season 4; Lalo had been a character mentioned only by name, alongside Nacho, in the Breaking Bad episode "Better Call Saul".
Dean Norris, another Breaking Bad alumnus, stated he could not be part of the earlier seasons, partly due to his involvement in the CBS series Under the Dome, but was announced as a guest star reprising his role as Hank Schrader by Season 5.
Other Breaking Bad actors have spoken of the potential of being on Better Call Saul. Both Bryan Cranston and Aaron Paul said, as of Season 3, they were both open to reappearing on the show as Walter White and Jesse Pinkman, respectively, if asked, believing that Gilligan would have a sufficiently good reason to bring them in. Paul had previously mentioned the possibility of a cameo during Season 1 but this fell through. In 2022, Cranston and Paul were confirmed to appear in the sixth and final season of Better Call Saul.
Anna Gunn also mentioned a "talk" with Gilligan over possible guest appearances as Skyler White. Gilligan said that by Season 3 that show had been on long enough that any reuse of Breaking Bad characters would require more than "just a cameo or an Alfred Hitchcock walkthrough", and that their appearances would need to be essential for the story.
Plot
Better Call Saul follows the transformation of James "Jimmy" McGill (Bob Odenkirk), a former con artist who is trying to become a respectable lawyer, into the personality of the flamboyant criminal lawyer Saul Goodman (a play on the phrase "[it]'s all good, man!"), over the six-year period prior to the events of Breaking Bad; spanning from approximately 2002 to 2008.
Jimmy is inspired to turn his life around from his past con-man approach, where he was known as "Slippin' Jimmy", by his older brother Chuck McGill (Michael McKean), a senior partner alongside Howard Hamlin (Patrick Fabian) in the Albuquerque law firm Hamlin, Hamlin & McGill, as well as Kim Wexler (Rhea Seehorn), one of the firm's legal associates who becomes Jimmy's romantic interest.
Jimmy's initial pursuits during this period are focused on the public defense and earnest attempts to fight for proper justice while trying to get ahead; although soon after, his life and career starts to intersect with the illegal drug trade in the region, featuring characters and story arcs that continue into Breaking Bad. This includes the uneasy truce between the Salamanca family that serves the Juárez Cartel drug interest, later led by Lalo Salamanca (Tony Dalton) when Hector falls ill, and Gus Fring (Giancarlo Esposito), a restaurant entrepreneur that uses his stores as a front for the drug trade. Among those caught up in these events include Ignacio "Nacho" Varga (Michael Mando), an enforcer for the Salamancas who only wants to protect his father from harm, and Mike Ehrmantraut (Jonathan Banks), a former police officer who becomes a fixer for Gus.
The show also includes flash-forwards at the start of each season's premiere (with the slight exception of Season 6) following the events of Breaking Bad; where Saul has paid to take on a new identity as Gene Takavic, the manager of a Cinnabon store in Omaha, Nebraska.
Seasons
See the list of all episodes from all seasons.
Video
References
See also