Spider-Man: No Way Home Trailer Dropped - The Loop
Play Sound
This article is about the original score from Better Call Saul. For the television series, see Better Call Saul (TV series).
For the Breaking Bad episode, see Better Call Saul.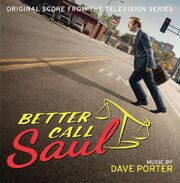 Better Call Saul: Original Score From The Television Series features incidental music specially composed for the series scored by Dave Porter. The album featuring twenty-one tracks of compositions was released on April 7, 2017.

Track listing
#
Title
Length
Episode
Scene
1
Shared Smoke
2:12
"

Uno

"
Jimmy angrily kicks a trash can and shares a cigarette with Kim.
2
Ass Over Tea Kettle
2:20
"

Uno

"
Jimmy goes over the plan to extort money from Betsy to the Lindholm twins.
3
One Leg Each
5:46
"

Mijo

"
Jimmy negotiates with Tuco to lower the severity of the twins' punishment.
4
Sex Robot Voice
1:45
"

Nacho

"
Jimmy makes a contraption to change his voice when warning the Kettlemans on the payphone.
5
Payphone Dilemma
3:32
"

Nacho

"
Jimmy attempts to call Nacho on a payphone, but is sent to voicemail.
6
Billboard Stunt
2:40
"

Hero

"
Jimmy stages a billboard accident.
7
Chuck's Theme
1:43
"

Mijo

"
Chuck throws Jimmy's phone out of his house.
"

Alpine Shepherd Boy

"
Chuck returns from the hospital.
"

Lantern

"
Chuck tears down the walls in his house.
8
Elevator Exchange
2:36
"

Bingo

"
Jimmy and the Kettlemans waits for Kim in the parking garage.
9
One Last Grift
1:44
"

Marco

"
Marco dies in the alley.
10
Jimmy's Choice
1:47
"

Marco

"
Jimmy begins to walk towards the courthouse for his meeting with Davis & Main.
11
Davis & Main
2:10
"

Switch

"
Jimmy enters Davis & Main and greets his new co-workers.
12
Pretend I'm Not Here
2:08
"

Cobbler

"
Chuck joins the conference meeting.
13
Deliberations
1:54
"

Amarillo

"
At Davis & Main, Jimmy broods over whether to show his commercial to Cliff.
14
Magic Hands
2:59
"

Uno

"
Jimmy rips up his check from HHM.
"

Amarillo

"
Jimmy waits for the phone lines to start ringing.
15
Weary Mike
3:38
"

Gloves Off

"
Mike returns home after the fight with Tuco.
"

Bali Ha'i

"
Mike cleans his gun.
16
Border Crossing
5:35
"

Fifi

"
At the U.S.-Mexico border, Border Patrol agents comb through the Regalo Helado ice cream truck searching for any possible drugs.
"

Sunk Costs

"
Salamanca's truck getting searched by Border Patrol, his goons being arrested.
17
Watching and Waiting
2:34
"

Fifi

"
Mike surveys Hector's henchmen.
"

Klick

"
18
Reciprocating Saw
2:35
"

Nailed

"
Mike captures the Regalo Helado truck driver and cuts through the tires to find money.
19
Three Moves Ahead
2:01
"

Hero

"
Chuck leaves his house to get the newspaper.
"

Klick

"
Chuck goes to his garage.
20
M40
4:30
N/A
N/A
21
Better Call Saul End Credits
4:06
All episodes
End credits.
Notes
Since Season 2, the recurring Cousins theme from Breaking Bad has made a few appearances in Better Call Saul. Notably in Bali Ha'i, Something Beautiful, and Bagman.