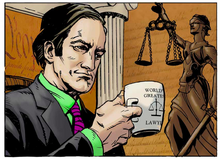 Better Call Saul: Client Development is a 2015 comic book published on the web alongside Better Call Saul Season 1. It shows the process of Saul discovering Walter White's identity, as implied behind the scenes and in a deleted scene in the Breaking Bad episode "Better Call Saul".
The comic also included a small feature depicting Saul as a Superman-like Superhero.
Credits
Characters
Man Badger mistook for Jimmy In-n-Out
School receptionist
External links
Community content is available under
CC-BY-SA
unless otherwise noted.