The Albuquerque Journal is a real life news paper that has made several appearances in the fictional world of Breaking Bad and Better Call Saul.
Appearances
Jesse Pinkman contacted the Albuquerque Journal and asked what kind of chemicals they use to bleach their paper, which resulted in the Journal writing and article about the subject and Jake earning an Environmental Consciousness Award. ("Cancer Man")
Marie has a patient at her clinic who works for the Albuquerque Journal and she was interested in writing an article about savewalterwhite.com earning thousands in anonymous donations after being told about it. ("ABQ")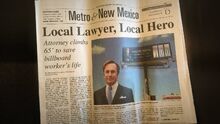 After concocting a scheme to get publicity for saving a billboard worker who was taking down his parody of HHM, Jimmy gets the story published in the Metro and New Mexico section of the Journal. He tries to conceal the news from Chuck by hiding the Albuquerque Journal from him, but Chuck suspecting a Slippin' Jimmy moment, braves the outdoors and steals a neighbours copy of the paper. ("Hero")
Mike Ehrmantraut reads the Journal every day while having breakfast at Loyola's Family Restaurant.