The 1996 BMW 318i Cabrio is a car belonging to Ken.
History
Breaking Bad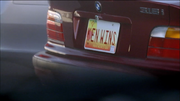 Walter once again crosses paths with the "KEN WINS" BMW at a service station. As one would expect, the man is bragging loudly into his Bluetooth headset. While the driver is inside the office, Walter walks near the car and picks up a squeegee. Lifting the hood of the BMW, he lays the squeegee between the battery terminals. As he walks back to his own car, the BMW bursts into flames. ("Cancer Man")
Trivia
The phrase "Ken wins" on the licence plate appears to refer to Ken's outsized ego.